Magnetic Stirrer VARIOMAG COMPACT for Pressurized Feeding Systems
(VARGravity2Go & VARJ1)
The inductive drives of Thermo Scientific VARIOMAG® magnetic stirrers operate without any moving parts such as motors, belts, or mechanical bearings, making them 100% wear and maintenance-free.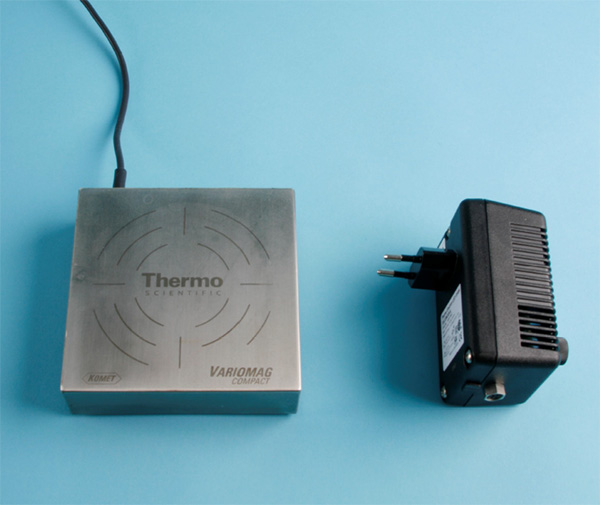 The remote-controlled VARIOMAG COM-PACT magnetic stirrers offer simple opera-tion in a compact size. This stirrer has ex-traordinary mechanical, physical and chem-ical resistances. Fully immersible, it can be submersed in water at temperatures to 50°C and is heat resistant in ovens and incubators up to 56°C.
Magnetic Stirrer Compact Specifications
| | |
| --- | --- |
| Stirring Points: | 1 |
| Stirring Power: | 5W |
| Housing Material: | stainless steel |
| Operating Temp: | -10°C up to +56°C at 100% relative humidity |
| Net Weight: | 1kg(2.2lbs) |
| Exterior Dimensions: | 120x120x35mm (WxDxH) |
| Inches: | (4.7x4.7x1.4) |
| Voltage: | 100 - 240V 50/60Hz |

Benefits include

· Hermetically sealed in a resistant stainless steel housing, thus suitable for use under conditions of high ambient humidity or in aggressive me-dia; impermeable to microorganisms
· Can be cleaned under running water
· Units for operation at +200°C in air or +95°C in water are optionally available
· Includes TELEMODUL or TELE-MODUL 20 C control unit (stirring power 7 or 20 watts) either 110V or 230V AC.

Please use the Info-Form to ask for the adequate encapsulation system for your specific applications.
Please note: You need Acrobat reader to display the following PDF - Files.