Encapsulation Unit -VAR D continuous with gear pump
The encapsulation unit is best suited for the generation of microbeads using matrices, where gelling is based on interfacial coacervation (e.g. alginate, carrageenan and the like). The particular unit is equipped with a gear pump.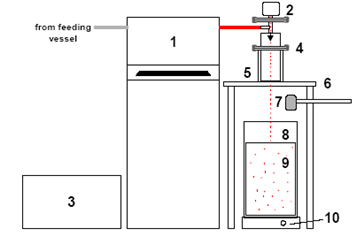 Legend:
1 Continuous Pump
2 Vibration Unit
3 Control Cabinet
4 Head with single Nozzle
5 Stroboscopic Light
6 Support for Head
7 Bypass System
8 Beaker for Hardening Solution
9 Hardening Solution with Beads
10 Laboratory Stirrer
Note: Designed for non sterile process without abrasive particles in the matrix feed to the nozzle.
The unit with its sophisticated multipurpose design and the flexible modular expandability has been tailored to the process developer's requirements. The modular approach in the design allows to change the unit repeatedly according to the changing requirements and to combine components delivered by us with equipment and devices already available in your laboratory.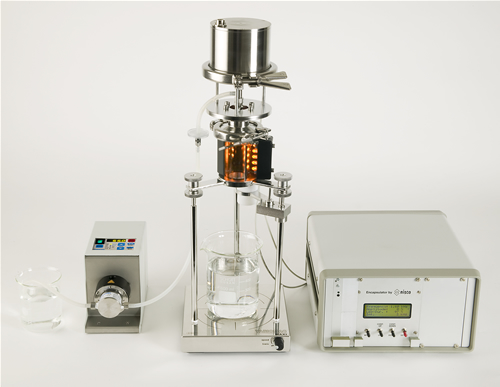 Continuous gear pump with digital magnetic coupled drive system and pump head with PEEK gears 85 up to 264 V, 47 up to 60 Hz, 60 W, 50 up to 5'000 rpm, 0.85 up to 85 ml/min.
Control cabinet:
Rack with display, four lines x 16 characters, programmable microcontroller for vibration control (choice ranges 160 to 3000Hz or 160 to 10'000 Hz). Power supply between 110 and 240 V AC automatically adjusting.
Available nozzles see flyer "Nozzles Sapphire"

Please use the Info-Form to ask for the adequate encapsulation system for your specific applications.
Please note: You need Acrobat reader to display the following PDF - Files.