Dual-headed Peristaltic Pump for Encapsulator VAR B,C,D,E
A dual headed peristaltic pump (one head for feeding, one head for removing liquid) is delivered for exchanging the liquid during the hardening process. It can be connected to the control cabinet to realise the two-point controller. The pump can also be used for insitu cleaning of the beads.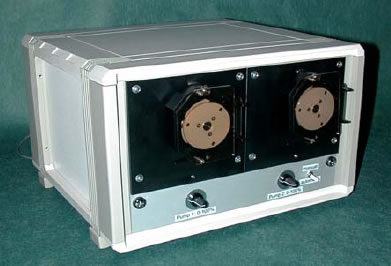 Specifications of the peristaltic pump
Housing dimensions l x w x h:
320 x 330 x 216mm
Central on/off switch:
integrated in control cabinet
Power supply:
230 Volt or 110 Volts
Two heads, each with following specification:
max. 67 W
Motor: DC 24 V
Gearbox 25:1
Pump range for hose Ø 4,8 x 1,6mm:
(adjustable with potentiometer)
4.4 to 528 ml/min
One of the two pumps is equipped with a Manual/Auto switch for remote control with the two-point controller.
The Connection cable to the control cabinet is 2 m.
There is one on/off switch foreseen for both pumps.
You can fix two optical level switches fixed behind the autoclavable vessel with a support. They are adjustable in height and fixed in a way that the level of the hardening solution can be controlled with a two-point controller. The two-point controller is built-in into the control cabinet and the outputs are connected to relays. There you can connect the dual headed peristaltic pump. We recommend to realise the required constant exchange by running the retracting pump with constant flow rate and to control by switching on and off the feed pump with the two-point controller. We offer customer specific solutions on request.

Please use the Info-Form to ask for the adequate encapsulation system for your specific applications.
Please note: You need Acrobat reader to display the following PDF - Files.