Heating Chamber Designed for Unit – Var D classic
Laminar jet break up has some properties concerning viscosity. Some matrices have lower viscosity with increasing temperature. That is helpful for the process to work with an increased temperature. Some low melting matrices such as agarose or gelatine have to be kept in a melted condition until they have passed the nozzle. In these cases temperatures up to 60°C are sufficient. For this reason Nisco Engineering Inc. has developed a heating chamber in which only the syringe pump is placed. The operating display is outside the heating chamber, so that the syringes can always be kept warm. It is important to use a syringe pump which is designed for the working temperature. We have chosen the KD Scientific pump of the 200 Series.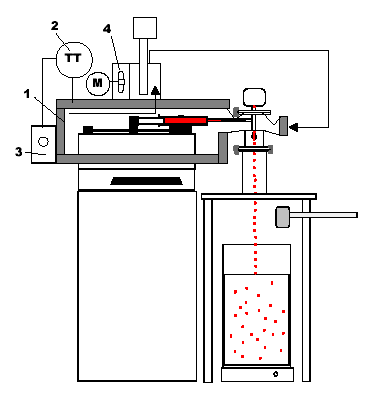 Legend:
1 Heating chamber (can be opened from the top to insert the syringes)
2 Temperature sensor inside the chamber
3 Temperature controller
4 Module with ventilator and electrical heating unit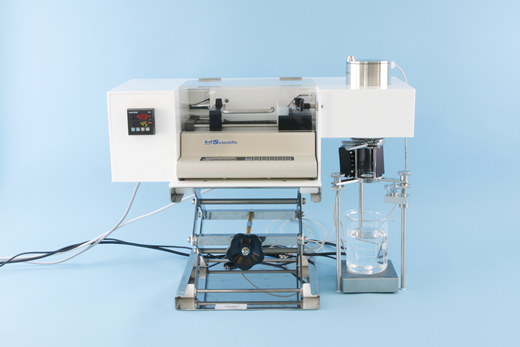 On the picture above you see the contained vessel of VAR A with the heating chamber. The heating chamber is controlled by a digital PID Controller and a pT-100. The unit is delivered in the following two versions:
For 110 V
For 230 V
The chamber is designed for the following syringe pump KDS 200:
The syringe pump is controlled by a micro controller and suited to work with two parallel syringes. The specific parameters can be configured by means of display and keyboard on the pump itself. There are a TTL and a RS232 interface on the pump. The most important technical data are listed below:
| | |
| --- | --- |
| Accuracy | <+-1 % |
| Recommended syringe sizes | 30–140 ml |
| N° of syringes | 1–2 |
| Volume / forward feed | variable |
| Linear forces | 18 kg |
| Size l x w x h | 230x280x140 mm |
| Weight | 4.0 kg |
| Electrical connection | 110 and 230 V |

Please use the Info-Form to ask for the adequate encapsulation system for your specific applications.
Please note: You need Acrobat reader to display the following PDF - Files.