Encapsulation Unit – VarD2Go Thermal
The encapsulation unit is best suited for the generation of microbeads using matrices, where
gelling is based on interfacial coacervation (e.g. alginate, carrageenan and the like). Which of these, or any other matrix might suit your specific needs, depends on what you want to encapsulate (e.g. proteins or bacteria), what properties the beads should have (physical strength, permeability, edibility, and so on) and which regulations and guidelines you have to follow (Hygienic Guidelines for Food, FDA etc.). With the optional heating chamber you can also
dropletise low melting products such as agarose.
Heated Head and Vessel – Aerodynamic Option

The unit can be equipped with the coaxial or triple nozzle on request.

Two nozzles as per your choice are included in the scope of supply.
The unit with its sophisticated multipurpose design and the flexible modular expandability has
been tailored to the process developer's requirements. The modular approach in the design allows to change the unit repeatedly according to the changing requirements and to combine components delivered by us with equipment and devices already available in your laboratory.

Heating Jacket for Vibrating Head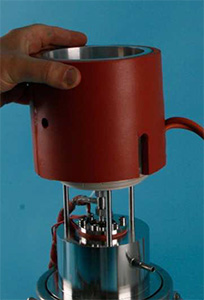 The unit is delivered with a digital control system and is visualised and operated through a
coloured touch screen. Ethernet connection for enhanced communication function and software
support is foreseen.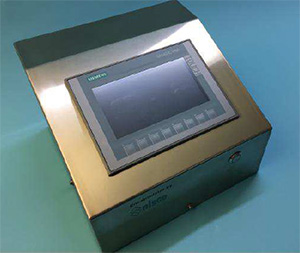 As an engineering oriented company we like to adapt the unit to your specific need.

Please use the Info-Form to ask for the adequate encapsulation system for your specific applications.
Please note: You need Acrobat reader to display the following PDF - Files.