Circulation Huber Mini Chiller for Thermal Units
The VARD2Go Thermal units are optionally equipped with the Mini Chiller Unit, which provides the cooling of the hardening solution.

The chiller is connected to the 3L beaker with double jacket hose connectors, made from borosilicate.

MPC-Controller:
Modern and easy to use microprocessor controller with a large temperature display
Limited to essential functions only:
- Large temperature display
. LED indicators for pump, cooling and heating
- Simple operation using only 3 keys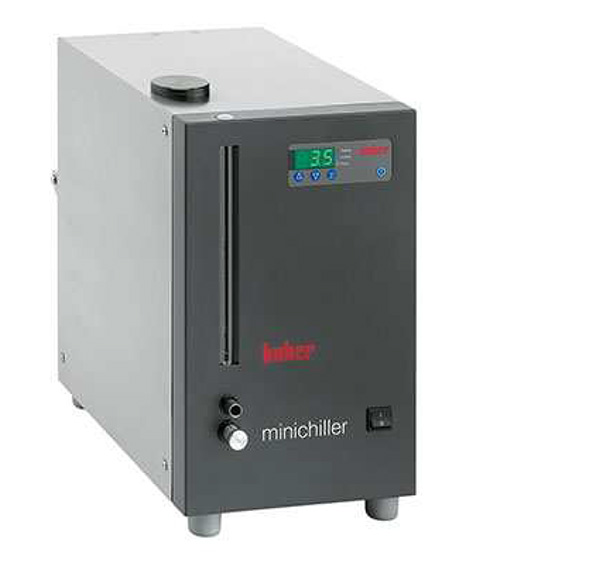 General information and temperature controller:

Temperature range
-20...40 (80*)°C
Temperature stability
±0,5°C
Temperature display
LED-Display
Display resolution
0,1 C
Alarm message
optical, acoustical
Controller
MPC
Safety class
I / NFL
Dimensions
(W x D x H) 225 x 360 x 380mm
Weight
23kg
Heating / cooling capacity
Cooling capacity
°C
15
0
-10
-20
kW
0,3
0.2
0.14
0.07
Cooling machine
air-cooled
Refrigerant
R290 (0,04 kg)
Circulation pump
Pressure pump
max. 14l/min;0,25bar
Suction pump
max. 17l/min;0,18bar
Pump connection
M16x1AG male
Operating data
Permissible ambient temp.
5...40°C
Filling volume min.
1,4Litres
Volume of expansion
2,6Litres
Power supply
230V 1~ 50/60Hz
Current max.
2,8A
* allowed return temperature
80°C

Please use the Info-Form to ask for the adequate encapsulation system for your specific applications.
Please note: You need Acrobat reader to display the following PDF - Files.